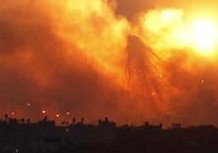 GAZA (Reuters) – Israel and Hamas vowed to keep fighting on Sunday, ignoring international calls to stop the Gaza conflict which entered a 16th day with heavy clashes between Israeli troops and Palestinian guerrillas.
Hamas's leader in exile, Khaled Meshaal, said his Islamist group would not consider a truce until Israel ended its military offensive and lifted a blockade of the Gaza Strip.
Israel sent tanks deeper into the Hamas-ruled coastal enclave and threatened to intensify its air and ground assaults against militants who fired more rockets into the Jewish state.
Palestinian witnesses reported heavy fighting east of the city of Gaza where Hamas militants fired anti-tank missiles and mortar bombs at advancing Israeli forces who responded with tank shells and air strikes. Southwest of the city, soldiers killed 10 gunmen, Palestinian medical workers said.
Israeli air strikes killed three militants, medical workers said. At least one of the dead was identified as a Hamas gunman.
Tank fire killed a woman in Nusseirat, central Gaza, medical officials said. Israeli shelling of two villages in south Gaza killed a woman and set 15 houses on fire, witnesses said. Some 50 people suffered from burns and gas inhalation, they said.
Though cross-border Palestinian salvoes have diminished, two rockets on Sunday struck Beersheba, 42 km (26 miles) inside Israel, the military said. There were no casualties or damage.
WHITE PHOSPHOROUS
New York-based Human Rights Watch has accused Israel of using white-phosphorus munitions and warned of undue suffering to Palestinian civilians through severe burns.
Israel said it uses only weapons permitted by international law. It has accused Hamas of using civilians as human shields.
A total of 858 Palestinians and 13 Israelis — three civilians killed by rocket fire and 10 soldiers — have been killed since the offensive began on December 27.
While Israeli commanders said whole Hamas battalions were being wiped out, Meshaal said Israeli forces had achieved nothing and pointed to the continued rocket fire.
Israeli actions have drawn denunciations from the Red Cross, U.N. agencies and Arab and European governments, spurred by the Palestinian civilian death toll in the hundreds.
Israel has pressed on with its offensive despite a U.N. Security Council resolution calling for a ceasefire and Egyptian-European efforts at mediation, saying it is intent on stopping Hamas rocket fire.
The group fired about a dozen rockets at Israel on Saturday, while a phalanx of Israeli tanks advanced from the north toward the city of Gaza.
Israel is demanding a complete halt to Hamas rocket fire, plus regional and international guarantees to stop the group rearming via smuggling tunnels under the border with Egypt.
Hamas wants any ceasefire deal to include the ending of Israel's crippling economic blockade of the Gaza Strip and the withdrawal of all Israeli forces from the territory, from which the Jewish state withdrew in 2005 after a 38-year occupation.