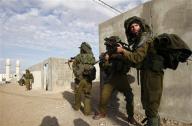 GAZA – Israeli leaders trying to find a knockout blow against Hamas militants defying a 17-day-old assault on the Gaza Strip have sent army reservists into battle.
With the Palestinian death toll nearing 900 and international pressure for a ceasefire mounting, Israeli forces might launch a full-scale attack on Hamas smuggling tunnels on Gaza's border with Egypt, and perhaps a wider urban operation.
Israeli Prime Minister Ehud Olmert, Defense Minister Ehud Barak and Foreign Minister Tzipi Livni met late on Sunday and decided to tighten pressure on Hamas, Israeli media reported.
Livni told Army Radio that the Gaza offensive had "restored Israel's deterrence" and "created a new equation … which says that when our citizens are attacked we respond with force."
She declined to say when Israel would end its assault.
RESERVISTS
Busloads of Israeli reservists headed south toward Gaza on Sunday as fighting raged on in the Hamas-ruled territory in defiance of a U.N. Security Council demand for a ceasefire.
The reservists had been held back while Israeli leaders ponder an all-out ground offensive on Gaza's towns and cities to try to destroy Hamas's ability to fire rockets into Israel.
Such a move would risk higher Israeli military casualties as well as even heavier losses among the 1.5 million Palestinians packed into the tiny coastal enclave with no escape route.
Israeli warplanes have repeatedly bombed the so-called Philadelphi corridor along Gaza's 15 km (nine mile) border with Egypt, sometimes using "bunker buster" munitions that explode underground and cause shockwaves to try to collapse the tunnels.
"We are continuing to operate to restore calm to the south and to create a situation of effective action along the Philadelphi corridor," Barak told visiting German Foreign Minister Frank-Walter Steinmeier, the defense ministry said.
"We are determined to achieve the goals we have set for ourselves at the beginning of the operation, and are in parallel examining the diplomatic course as well," Barak said.
Israel, which rejected last week's U.N. ceasefire resolution as unworkable, wants a halt to rocket attacks and measures to stop Hamas from rearming via the cross-border tunnels.
Hamas leader Khaled Meshaal said his Islamist group would not consider a ceasefire until Israel ended its air, sea and ground assault and lifted its blockade of Gaza. A Hamas delegation is in Cairo for talks on an Egyptian truce plan.
Western and Israeli officials said diplomats were discussing a broad internationally assisted monitoring system to help Egypt stop weapons smuggling and intercept rocket shipments.
Steinmeier told Livni Germany was ready to help Egypt combat smuggling by land and sea, Israeli officials said. Berlin has offered Egypt training and equipment, German diplomats said.
Israel believes at least some of Hamas's rockets arrived in Egypt by ship and were then transported overland across the Sinai peninsula before being sent into Gaza through tunnels.
DEATH TOLL
Backed by helicopter gunships, Israeli tanks pushed into eastern and southern parts of the city of Gaza on Sunday, attacking Hamas militants who fired anti-armor missiles and mortar bombs.
The Palestinian death toll since Israel's offensive began on December 27 stands at 890, many of them civilians, Gaza medical officials said. About 3,600 Palestinians have been wounded.
Thirteen Israelis — three civilians hit by rocket fire and 10 soldiers — have been killed, Israel says.
In Washington, U.S. President-elect Barack Obama said the deaths of Palestinian and Israeli civilians were "heartbreaking" and vowed early involvement in the quest for Middle East peace.