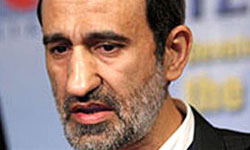 TEHRAN (FNA)- Iran is to discuss swapping natural gas with Russia and Qatar at an upcoming meeting of a recently formed gas forum known as the Gas Exporting Countries Forum (GECF), a senior Iranian energy official said.
Iran's Governor to the Organization of Petroleum Exporting Countries (OPEC) Mohammad Ali Khatibi told Dow Jones Newswires yesterday that natural "gas swaps .. is the issue the troika is going to discuss at the next meeting" of the GECF.
Iran's Oil Minister Gholam Hossein Nozari had also announced earlier in the day that Tehran and Moscow are in talks to finalize a gas swapping deal.
He said the "troika" was made of the three largest producers – Iran, Russia and Qatar – among the 12 members of the forum.
The organization, which was formed Dec. 23, has been likened to OPEC and compared to a cartel. But Khatibi reiterated its members' stance that it is dedicated to technical cooperation.
The troika of Iran, Qatar and Russia has been established in a bid to expand trilateral gas cooperation and implement joint projects.
Swaps are agreements by which a country can supply goods to another in exchange for the latter giving the equivalent to a third party. This kind of deal is frequently used in the oil and gas industry where export routes can involve crossing several countries.
Khatibi's statements about possible Iranian gas swaps with Russia come after the latter cut supplies going through Ukraine to Europe on Jan. 1 over a pricing dispute.