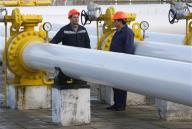 MOSCOW/KIEV (Reuters) – The Russian and Ukrainian prime ministers will meet on Saturday to try to resolve a gas row that has cut back supplies to a freezing Europe.
German Chancellor Angela Merkel reiterated European calls for a quick to the two countries' arguments over gas debts and prices, saying trust in Russia was at risk.
Russian Prime Minister Vladimir Putin's spokesman said Putin would meet his Ukrainian counterpart Yulia Tymoshenko on January 17, soon after returning from talks with Merkel in Berlin which are scheduled for Friday.
An EU-brokered deal had been supposed to get supplies of Russian gas moving to Europe via Ukraine on Tuesday, with international monitors in place to ensure that Ukraine was not siphoning off gas, as Moscow has alleged.
But it failed to break the deadlock and the row continues to disrupt supplies to 18 countries, forcing factories to shut down and leaving householders shivering in bitter winter cold.
"I think there is a risk that confidence in Russia could be lost in the long run," Merkel told a news conference in Berlin with British Prime Minister Gordon Brown.
It was another sign of growing frustration within the EU at the failure of Russia and its former Soviet vassal Ukraine to resolve the row over how much Kiev should pay Moscow for gas.
With no breakthrough looming, European Commission chief Jose Manuel Barroso called the situation "unacceptable and incredible" and said the EU could advise its firms to sue Russian and Ukrainian firm if gas supplies were not restored.
After talks in Moscow and Kiev, Slovak Prime Minister Robert Fico said he could not imagine what would have to happen for the gas transit to resume quickly.
"It is practically impossible. The conditions laid by one and the other side are so contrasting that this simply cannot work," he told a news conference.
EU COOL ON GAS SUMMIT
Russian President Dmitry Medvedev has proposed holding a summit in Moscow this weekend with European importers of Russian gas to find a way out of the crisis.
The EU showed little enthusiasm for the idea. A Moscow envoy of the Czech Republic, the EU Presidency, said he believed Europe was a better place for a meeting and no decision has been yet taken on participation.
Brussels is concerned the summit could be a Russian attempt to divide the bloc, which has so far been relatively unified in its line in the dispute.
Moscow has accused Ukraine of deliberately cutting gas to Europe while Kiev says Moscow is using the wrong routes and trying to deny it gas to maintain pressure in the pipelines.
The European Union imports a fifth of its gas from Russia via Ukraine. The crisis has highlighted its vulnerability to disruption and sparked a new debate about diversifying supplies.
The row takes place against a backdrop of strained political ties between Moscow and Kiev. Russia is angered by the ambition of Ukraine's leaders to join the NATO alliance, and by their support of Tbilisi during the Russian-Georgian war in August.
Paolo Scaroni, CEO of Italy's ENI — one of dozens of energy firms worried by the supply disruptions and anxious for a quick resolution — was to meet with officials of Russia's Gazprom gas export monopoly in Moscow on Thursday.
Gazprom said it had again asked Ukraine to transit some 99 mcm of gas to Europe on Thursday, as it did on the previous two days. It said Kiev again denied access.
Ukraine has countered by saying Russia is deliberately seeking to ship gas through Ukraine via a route that is not operational.
Gazprom has been using other routes to raise exports to Europe but its total supplies are still half the usual export volumes in winter months.
Ukraine itself has yet to agree on prices for its own supplies. Moscow is seeking a sharp rise despite a drop in global prices amid a severe downturn in Ukraine's economy.
Tymoshenko told Putin Ukraine would guarantee transit if Moscow allowed Kiev to use 8 percent of supplies for technical needs. Kiev would pay later when prices for 2009 are agreed, she said. Moscow has repeatedly turned down similar requests.
"With both sides hardening their positions, European leaders calling for lawsuits, and financial damage accumulating daily, the costs are starting to reach meaningful levels," said Ron Smith, head of research at Alfa Bank.
The dispute has already cost Gazprom $1.2 billion and Smith said the losses were widening by $120 million every day — half of which was destined to go into Russia's strained budget.