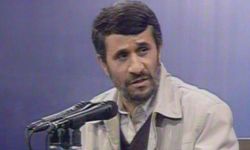 TEHRAN (FNA)- Iranian President Mahmoud Ahmadinejad said some of the Arab leaders were standing back in silence and even supporting Israeli attacks on Gaza.
"Unfortunately, some regional, Islamic and Arab states for whatever reason and with a smile of satisfaction, are supporting or tolerating this rare genocide in silence," Ahmadinejad wrote in a letter to Saudi King Abdullah.
His letter was published on the president's website a day after the Saudi monarch called for a summit of the Persian Gulf Arab leaders.
"(They) are expecting that this defenseless people's existence will be broken and that they surrender to the oppression of the occupiers," he said, urging King Abdullah "to break his silence and announce his view" on the crisis.
"With God's help and relying on the Gaza people's resistance and belief in God, undoubtedly the Zionist regime will fail and will eventually collapse," the Iranian president wrote.
Ahmadinejad is due to give a news conference on Thursday that is expected to focus on Israel's attacks on Gaza, in which more than 1,070 Palestinians have so far been killed.
In another message, Ahmadinejad took the unusual step of addressing Israeli troops, calling on them to disobey their commanders. He also urged "residents of occupied Palestine", a reference to Israelis and the small Arab population residing on occupied lands, to publicly protest.
"You soldiers of the Zionist regime … Why should you kill innocent women and children? The time has come for you to protest against your commanders and disobey their orders," he said in the second message, also published on his website.
Iranians have staged a series of protests in support of Palestinians, in particular gathering outside the Jordanian embassy and Egypt's diplomatic mission. Both Arab countries have peace treaties with Israel.
Protesters have focused on Egypt, which does not have full diplomatic ties with Iran, for closing its border with Gaza.
In an interview with Iran's Arabic-language satellite channel Al-Alam, Ahmadinejad urged Egypt to open the crossing.
Egypt sometimes allows wounded people and medical supplies through its border with Gaza but the crossing has been closed to ordinary traffic since Hamas seized control there following its landslide victory in parliamentary elections in 2007.