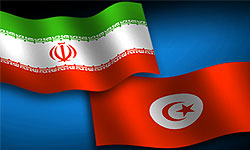 TEHRAN (FNA)- Iran's Vice-President for Judicial and Parliamentary Affairs Mohammad Reza Rahimi conferred with Tunisian Foreign Minister Abdelwaheb Abdallah over bilateral ties and mutual cooperation in a meeting in Tunis.
During the meeting, the two sides discussed bilateral relations, explored ways to further develop relations and exchanged views over regional and international issues of mutual interest.
The Iranian official paid tribute to President Zine el Abidine Ben Ali for his constant stands and his support to the Palestinian cause as well as for his commitment to put an end to the barbaric Israeli aggression on the Gaza Strip and guarantee necessary protection to the brotherly Palestinian people.
Abdelwaheb Abdallah reiterated the support of the Tunisian President, government and people for the Palestinian just cause and their unconditional support to the brotherly Palestinian people in their fight for freedom and to establish an independent state on their territories.
Regarding Iran-Tunisia relations, Mohammad Reza Rahimi and Abdelwaheb Abdallah underlined the strong common will driving the two countries' leaders to boost, diversify and intensify mutual cooperation in all fields to serve the two countries' interests.
They underlined the need to boost cooperation and implement the agreements signed earlier in the areas of trade, industry, tourism and transport.
They also expressed the hope to make the most of the next meeting of the Iranian-Tunisian joint commission to further strengthen their present cooperation.