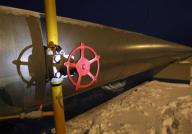 BERLIN (Reuters) – The European Union piled pressure on Russia and Ukraine on Friday to resolve a dispute cutting gas supplies to Europe in mid-winter and Germany said Russia must honor energy contracts.
Russian Prime Minister Vladimir Putin, who began a visit to Germany on Friday, is to meet Ukrainian Prime Minister Yulia Tymoshenko in Moscow on Saturday on the gas price dispute and the EU Commission said such meetings provided a "last chance."
"The European Commission believes that the meetings in coming days offer the last and best chance for Russia and Ukraine to demonstrate they are serious about resolving this dispute," Commission spokesman Johannes Laitenberger said.
"The gas must flow. We will regard this period as a test case for judging whether or not they are credible partners."
German Chancellor Angela Merkel will tell Putin on Friday that Russia and Ukraine must respect contractual obligations in their row over gas, a German government spokesman said.
European energy firms were working on a plan to restore gas supplies to Europe hit since the start of the year. The head of German gas group E.ON Ruhrgas has spoken to Merkel and will meet Putin in Berlin, a spokesman said.
Paolo Scaroni, chief executive of Italian energy giant Eni SpA said late on Thursday a consortium would provide gas necessary for technical reasons to get pipelines and pumping stations working again.
The move could allow gas supplies to Europe to get under way immediately, leaving the question of reimbursement for the consortium's gas on hold until an agreement between Ukraine and Russia on their price dispute is reached.
Scaroni said the consortium would include E.ON, Gaz de France Suez and an Austrian company.
Eni is Europe's leading gas operator and largest user of the Ukraine pipeline. Scaroni discussed the consortium idea with Putin on Thursday and flies to Germany on Friday.
An official of Russia's Gazprom said the European consortium would deal with organizational issues on Friday and was unlikely at once to buy the gas needed for pumping to start.
Putin and Tymoshenko's Moscow talks on Saturday aim to resolve the gas row, which has cut supplies to 18 states, forced many factories to close and left householders shivering.
There was little enthusiasm in Brussels for a separate Moscow meeting with importers proposed by Russian President Dmitry Medvedev. But the EU executive said it and the Czechs — current holders of the EU presidency — would attend if Russian and Ukrainian leaders were there too.
Senior east European officials will hold talks in Kiev on Friday on the disruption in gas supplies, the office of Ukrainian President Viktor Yushchenko said.
Frustration is growing in the EU at the failure of Russia and the former Soviet republic of Ukraine to resolve the row over how much Kiev should pay Moscow for gas, or at least allow gas to flow to Europe while they argue it out.
"It is clear today, even if they turn on the taps tonight and gas starts to flow, there has been irreparable, irreversible damage done, a loss of confidence in both Russia and Ukraine," said Martin Riman, Czech industry and trade minister.
An EU-brokered deal was supposed to get supplies of Russian gas moving to Europe via Ukraine on Tuesday despite the pricing dispute. EU monitors are in place to ensure Ukraine does not siphon off gas, as Moscow has alleged it has done.
BID TO DIVIDE EU?
Brussels is concerned the meeting proposed by Medvedev in Moscow could be an attempt to divide the bloc, which has so far been relatively united on the issue.
The European Union imports a quarter of its gas from Russia and 80 percent of its supplies go via Ukraine. The crisis has highlighted its vulnerability to disruption and sparked a new debate about diversifying supplies.
Slovakia said on Thursday it would have to reduce supplies even to heating plants and cut off big industrial users unless Russian gas started flowing via Ukraine again by February.
The row takes place against a backdrop of strained political ties between Moscow and Kiev. Russia is angered by the ambition of Ukraine's leaders to join the NATO alliance, and by their support of Tbilisi during the Russian-Georgian war in August.
Ukraine's Yushchenko held talks with British Prime Minister Gordon Brown in London on Thursday. Brown stressed the need for an "urgent resolution" of the gas problem, a spokesman said.
Moscow is seeking a sharp rise in the prices Ukraine pays for its own gas supplies. Ukraine is reeling from a severe economic downturn, with output in the key steel sector falling 43 percent in December compared with December 2007.