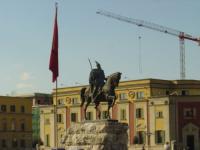 Greece's ratification of Albania's Stabilization and Association Agreement, SAA, with the European Union on Wednesday was the final step in the formal approval process of the key document by all EU member states, paving the way for Tirana's application for EU candidate status.
Prime Minister Sali Berisha said last week that Albania would officially apply for EU candidate status in the coming months, possibly even during the Czech Republic's six-month presidency of the EU.
In the last EU progress report for Albania the European Commission acknowledges that the country has continued to make progress in democracy and rule of law.
"Despite some progress, the fight against corruption and organized crime remains a major challenge", the report says. It says an overall anti-corruption strategy has not kicked off, and emphasizes that corruption "remains widespread and serious problem".
The report adds: "Fighting corruption in the judiciary remains a key issue", and it urges a thorough investigation of the Gerdec explosion case. "Much work is needed on all aspects of the issue, including judicial accountability and transparency of political party founding," the paper notes.
The report notes only limited progress in preventing money laundering, as well as the fight against drug trafficking, which "remains a serious concern". Albania is lacking an adequate court infrastructure, the report says, stressing a "comprehensive reform strategy for the judiciary is missing".
According to the paper, Albania needs to make greater efforts to establish an independent, efficient, and merit-based civil service.
Albania has made progress in aligning its legislation, policies, and capacities with European standards and in implementing Interim agreement commitments. However, in the field of justice, freedom, and security, the country has progressed "unevenly"; therefore, the Commission considers there is a need for overall improvement.
In addition, although Albania is participating in dialogue over the liberalization of the visa regime, the report says it has not yet met the EU's standards regarding the visa regime, with the introduction of biometric passports being a key step.