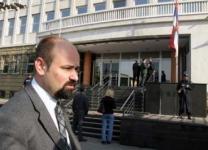 The United Nations mission in Kosovo, UNMIK, lied to Serbia when it was quizzed over an investigation into alleged trafficking of organs taken from ethnic Serbs during the Kosovo conflict, a spokesman for Serbia's war crimes prosecutor said.
Former U.N. war crimes prosecutor Carla Del Ponte wrote in her memoirs, published last year, that her team had investigated reports that around 300 Serbs held in Albania had had their organs removed in a makeshift clinic in northern Albania, apparently for trafficking, in a operation run by Kosovo Albanian guerrillas.
The victims had allegedly been seized during the 1999 NATO air campaign against Serbia, launched to stop mass killings of ethnic Albanian civilians in a counter-insurgency war.
Del Ponte recounts in the book how in 2004, U.N. investigators searched a "yellow house" for evidence and found blood stains, gauze and syringes. When they returned and tried to open graves in a local cemetery, villagers protested and eventually the investigation petered out with little concrete evidence.
Serbian war crimes prosecution spokesman Bruno Vekaric said that UNMIK, which took over Kosovo after Serb forces were expelled, had claimed that no investigation had ever been conducted into the allegations, something the Serbian prosecution had established as being a lie.
"I can document that after the beginning of our investigation on April 22, 2008, we asked UNMIK for information on human organ trafficking. We received an answer on June 6, 2008 that they had not knowledge whatsoever. We then found an informal report from which it is clear that an investigation was conducted," Vekaric told Serbian broadcaster B92.
He added that evidence from the initial investigation, including a medical container suspected of having been used during operations, was likely taken to The Hague.
"We have information that it ended up in The Hague, which you can see from this signature here. This was signed by a credible person, who was a Hague Tribunal investigator at the time. According to this, the documents were destroyed in The Hague once the investigation was complete—that material was no longer any use to them," Vekaric said.
Albanian authorities have dismissed the allegations as fiction and have not allowed Serb prosecutors to visit the area, saying that the issue had already been investigated by local authorities as well as by the Hague tribunal.
Albanian Prime Minister Sali Berisha has also rejected suggestions by Serbia that he had asked his secret service to destroy key files "under the influence of Ramush Haradinaj", a former guerrilla leader who later become Kosovo prime minister.
Serbia says it has evidence suggesting mass graves in the area and has asked the Council of Europe to pressure Albania into allowing a new investigation.