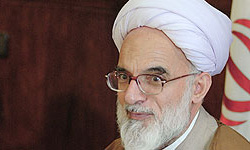 TEHRAN (FNA)- Iran's Prosecutor General Qorban Ali Dorri Najafabadi said the world nations expect the United Nations guarantee implementation of Security Council Resolution 1860 on the Israeli war against Palestinians.
Referring to the massacre of Palestinians in Sabra, Shatila and Qana, the official told the Iranian students news agency that if the UN had not ignored those crimes, such a massacre would not have happened in Christmas time.
Dorri Najafabadi said that ethnic cleansing in Palestine is continued by Israel and the UN should double its efforts to end the brutal crimes without any discrimination.
He urged the United Nations to send off quickly a fact-finding committee to investigate the ongoing situation in Gaza and Israeli crimes in the region.