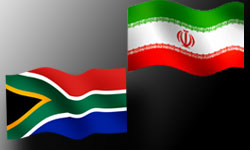 TEHRAN (FNA)- Iran and South Africa have decided to boost cooperation in oil, gas and petrochemical industries, a senior Iranian economic official said.
Visiting Iranian Deputy Economy Minister Behrouz Alishiri made the remarks at the end of his official visit to South Africa.
The visit to South Africa by the Iranian deputy minister aimed to follow up on economic, trade, scientific and technological agreements signed between the two countries during their 10th joint commission in Tehran earlier.
Describing the two countries' relations as positive, the top Iranian economic ministry official said the two countries could cooperate in such areas as tourism, science and education as well as exchange of university students and lecturers.
Alishiri added that during the trip, he had attended talks with South Africa's major international enterprises and private sector business owners and discussed areas of possible cooperation.
In addition to oil, gas and petrochemistry, the Iranian deputy minister stated that Tehran and Pretoria will work together in such areas as mines and industries, marine and rail transportation as well as culture and art.