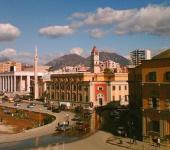 A group of Albanian NGOs sent an open letter to Prime Minister Sali Berisha on Monday to protest against the application of value-added tax, VAT, on non-profit organisations, calling it a serious threat to the existence of civil society in Albania.
Though the Albanian non-profit sector is thriving with hundreds of NGOs registered in the capital Tirana, most of them are poor and heavily dependent on foreign donors. Once applied, the VAT of 20 percent on products and services would add a heavy burden on their budgets.
"VAT for NGOs, we consider this move as a lack of respect toward the mission that the civil society fulfills in Albania,"the group said in a statement, adding that the introduction of VAT was troubling not only them, but also the community of donors that support Albania.
According to the Stability Pact organisation, Albanian NGOs have drafted proposals for legislation and have begun lobbying for reforms in a broad spectrum of priority areas, including the environment and social issues.
Former government officials, civil servants, and academics are increasingly moving into the non-profit sector in what is becoming a two-way process, as staff of think tanks and other NGOs find work in the public sector.