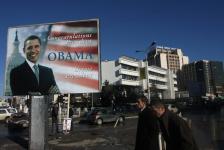 Ahead of his inauguration as the 44th United States president, Barack Obama's winning smile is plastered on billboards and posters all around Kosovo, the most pro-American nation in Europe due to US support for its secession from Serbia.
Washington was among the first capitals to recognise Kosovo's declaration of independence from Serbia last year, and has continued to stress its support for the Albanian-majority state in international forums. The US was also instrumental in the 1999 NATO bombing that expelled Serb forces accused of ethnic cleansing while fighting a counter-insurgency war.
"I think he is a good man, we have many hopes that he will continue to do positive things for Kosovo," said Bejte Feta as he walked by one of the Obama billboards in the Kosovo capital Pristina. "I am actually very happy to see him on the billboards."
The billboards — a picture of Obama against a Stars-And-Stripes backdrop over the words "Congratulations President Obama" — were put up by the outdoor marketing company Europlakat who said they were financing the entire cost themselves. 
"We as a company decided to put up the billboards to wish the new president good luck term", a Europlakat spokesperson told Balkan Insight.
Gezim Dobroshi, a student at the American University in Kosovo said Obama would bring some much needed optimism "during these hard times with the financial crisis."
"As far as Kosovo is concerned, I'm pretty sure we can expect the same political stance as the previous president", he told Balkan Insight.
Obama's path to the White House was keenly watched in Kosovo, with his foreign policy statements covered daily and scrutinised for hints of his future direction on the territory's progress towards full statehood.Recognised by most European Union countries, Kosovo is still under the mandate of international supervisors and is blocked from entering the UN and other international organisations by Serbia and it's big-power ally Russia.
Politicians recognise they rely on the US for muscle, and from early on started efforts to lobby the new president, sending him a letter of congratulations on his victory.
"We may send another letter to President Obama, emphasizing our commitment to work and cooperate together", government spokesman Memli Krasniqi told Balkan Insight.
Businessman-turned politician Behgjet Pacolli of the Alliance New Kosova party will be present at the inauguration and is due to meet Vice President Joe Biden and other US officials.
Political analysts say US foreign policy toward Kosovo will not change as Obama had shown his support for Kosovo's independence both with statements and by the choice of his team.
"His political cabinet composed of Joe Biden and Hillary Clinton, both important figures in Kosovo's history, testify as to his approach and attitude toward Kosovo", analyst Mufial Limani for Balkan Insight.
According to him, the US doesn't have a "mystic love for Kosovo" but specific interests, adding that its foreign policy was driven by an agenda to protect human rights and spread democracy around the world.
Halil Matoshi, a Pristina-based analyst, said Kosovo had nothing to worry about.
"The composition of his cabinet proves that there will be no change in the US foreign policy toward Kosovo", Matoshi told Balkan Insight.
With the posters brightening up Pristina's wintery streets and state television due to cover the inauguration live, people are already discussing the addition of a Barack Obama street to the capital's roster of appreciation, which already features a Bill Clinton Boulevard and George Bush Road.
"The municipality's commission decides the names of roads based on requests and proposals," said Muhamet Gashi, spokesperson for the municipality of Pristina, "therefore, I'm not ruling out the possibility that one can be named after Obama."