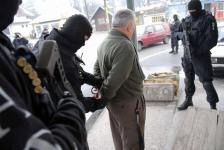 A Croatian court in Rijeka on Monday ordered a month-long detention for the head of Bosnia's special unit for the fight against organized crime, terrorism and corruption, who was arrested by Croatian police under suspicion of conspiracy to commit murder.
Vjekoslav Vukovic, who was also an assistant minister in Bosnia's Ministry of Security, was arrested in Rijeka on Friday. He is accused of acquiring and assembling an explosive device and other weapons that were supposed to be used in an assassination, media quoted Croatian authorities as saying. The 35-year old, who has dual Bosnian and Croatian citizenship, has denied all charges.
Local media reported that the alleged assassination targets were two men involved in providing security for bars and night clubs in the town. The killings were supposed to take place three months ago but were thwarted by Croatian police, and two would-be assassins were arrested at the time. Police then waited for three months for Vukovic to appar in Rijeka to arrest him as well.
A judge in Rijeka questioned Vukovic for two hours on Saturday and again on Monday. The initial two-day detention was extended for another month, because of the possibility that Vukovic could flee to Bosnia. This means the public prosecutor has one month to decide whether there is enough evidence to press charges or to release Vukovic.
Vukovic's boss, Bosnian Minister of Security Tarik Sadovic, told media on Sunday he will suspend Vukovic because he failed to show up in his office on Friday without an explanation, and used his official car for his private trip to Rijeka.
On Monday, Sadovic said that the arrest of such a senior official placed Bosnian authorities in an"unpleasant situation" and even brought the work of state security institutions into question.
In addition to his role in the fight against terrorism and organized crime, Vukovic was also the head of a state commission reviewing Bosnian citizenship, which recently stripped few hundred people – mainly former Islamic fighters who came as volunteers in the 1992-95 war – of their Bosnian citizenship, Sadovic said. He added cryptically that Vukovic was "very close to American intelligence circles and other American structures in Bosnia and Herzegovina".
The arrest raised a storm of media reports and speculation.
"This event represents a huge stain on the credibility of the state authorities," columnist Tarik Lazovic said in a comment published on Sunday in the influential Sarajevo daily Dnevni Avaz.
Vukovic's lawyer Antun Denona told media that Vukovic denied all charges and was "shocked" by what he called a "media lynching" in both Bosnia and Croatia.