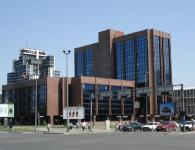 Unknown persons broke into the office of Vesna Bosotova, a judge in charge of a high profile war crime case dating from Macedonia's armed conflict in 2001, local media reported late on Monday citing police sources.
Bosotova leads one of the four cases of alleged war crimes that was returned to Macedonian courts by the International Criminal Tribunal for the Former Yugoslavia. The case she is handling regards the kidnapping of Macedonian civilians by ethnic Albanian guerrillas.
The burglary happened last Wednesday, the source told local Alsat M TV. Several lockers at the office and the desk were broken and documents inside stolen, but the source did not specify whether any case-related documents were missing.
The most high-profile suspects in the case is Daut Rexhepi, a former ethnic Albanian guerrilla turned politician. Rexhepi, who went by the nom de guerre Commander Leka during the six month-long conflict with state security forces, is charged with command responsibility for the kidnapping and killing of several Macedonian civilians in territory under his control.
Ethnic Albanian parties have been insisting these cases should be dropped according to the amnesty law from 2002, adopted as a means of ethnic reconciliation. Analysts fear that the cases could revive inter-ethnic disputes from the past and distract Macedonia from its reform course towards the EU and NATO.