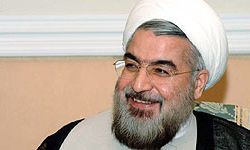 TEHRAN (FNA)- The issue of Palestine and Gaza is a proper test for Obama, Iranian Supreme Leader's representative at the Supreme National Security Council (SNSC) Hassan Rouhani said here on Tuesday.
"We should see what Obama does when declaring his policies and taking action. I think there is a test before Obama and it is the issue of Palestine and Gaza," Rouhani told reporters hours before US President-elect Barak Obama takes his oath of office.
He made the remarks on the sidelines of a seminar dubbed 'The International and Legal Aspects of Israeli Aggression against Gaza and the Scenarios Ahead' at Iranian Expediency Council's strategic research center.
Referring to the address that Obama is slated to forward today in his inauguration, Rouhani said, "I think this address and the positions of his government will show that how much he is abided by changing (US) policies. We hope this will be the case as (George) Bush's policy of Iron Fist has failed in the whole region."
"US is obliged to at least make fundamental changes in its foreign policies and we wait to see how these changes happen," he added.
The official also pointed to Obama's campaign slogans and stances about direct and unconditional talks with Iran, and stated, "Direct and unconditional talks with Iran may open a window to solve (Iran's) nuclear issue."
Washington and its Western allies accuse Iran of trying to develop nuclear weapons under the cover of a civilian nuclear program, while they have never presented any corroborative evidence to substantiate their allegations. Iran denies the charges and insists that its nuclear program is for peaceful purposes only.
Tehran stresses that the country has always pursued a civilian path to provide power to the growing number of Iranian population, whose fossil fuel would eventually run dry.
Despite the rules enshrined in the Non-Proliferation Treaty (NPT) entitling every member state, including Iran, to the right of uranium enrichment, Tehran is now under three rounds of UN Security Council sanctions for turning down West's illegitimate calls to give up its right of uranium enrichment.
Tehran has dismissed West's demands as politically tainted and illogical, stressing that sanctions and pressures merely consolidate Iranians' national resolve to continue the path.
Iran insists that it should continue enriching uranium because it needs to provide fuel to a 300-megawatt light-water reactor it is building in the southwestern town of Darkhoveyn as well as its first nuclear power plant in the southern port city of Bushehr.
Iran currently suffers from an electricity shortage that has forced the country into adopting a rationing program by scheduling power outages – of up to two hours a day – across both urban and rural areas.
Iran plans to construct additional nuclear power plants to provide for the electricity needs of its growing population.
The Islamic Republic says that it considers its nuclear case closed as it has come clean of IAEA's questions and suspicions about its past nuclear activities.
Analysts believe that the US is at loggerheads with Iran due mainly to the independent and home-grown nature of Tehran's nuclear technology, which gives the Islamic Republic the potential to turn into a world power and a role model for other third-world countries. Washington has laid much pressure on Iran to make it give up the most sensitive and advanced part of the technology, which is uranium enrichment, a process used for producing nuclear fuel for power plants.
The US attempt to push for stronger Security Council sanctions has been undermined by the country's own national intelligence estimate, published in late 2007, which said Iran is not pursuing a weapons program.
Washington's push for additional UN penalties also contradicts reports by the International Atomic Energy Agency Director General Mohammed ElBaradei – one in November and the other one in February – which praised Iran's truthfulness about key aspects of its past nuclear activities and announced settlement of outstanding issues with Tehran.
The February report by the UN nuclear watchdog, the International Atomic Energy Agency, praised Iran's cooperation in clearing up all of the past questions over its nuclear program, vindicating Iran's nuclear program and leaving no justification for any new UN sanctions.
Also in another report to the IAEA's 35-member Board of Governors, ElBaradei once again verified Iran's non-diversion of declared nuclear material, adding that the UN agency has failed to discover any "components of a nuclear weapon" or "related nuclear physics studies" in Iran.
The UN nuclear watchdog has also carried out at least 14 surprise inspections of Iran's nuclear sites so far, but found nothing to support West's allegations.
The Vienna-based UN nuclear watchdog continues snap inspections of Iranian nuclear sites and has reported that all "declared nuclear material in Iran has been accounted for, and therefore such material is not diverted to prohibited activities."
The aforementioned reports have made any effort to impose further sanctions on Iran completely irrational.
Observers believe that Bush's attempt to rally international pressure against Iran lost steam due to the growing international vigilance following the said reports.
Many world nations have called the UN Security Council pressure against Iran unjustified, especially in the wake of recent IAEA reports, stressing that Tehran's case should be normalized and returned to the UN nuclear watchdog due to the Islamic Republic's increased cooperation with the agency.
US President George W. Bush finished a tour of the Middle East in winter to gain the consensus of his Arab allies to unite against Iran.
But hosting officials of the regional nations dismissed Bush's allegations, describing Tehran as a good friend of their countries.