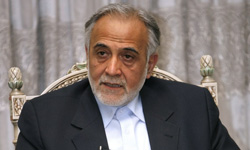 TEHRAN (FNA)- Iranian Vice President Parviz Davoudi said in a meeting with Turkey's Ambassador to Tehran Salim Kara Osmanoglu here on Tuesday that regional equations will change following the recent developments in Gaza.
Noting that presentation of road maps and international solutions for managing affairs of different countries and the Middle East has come to a dead end, Davoudi added, "Current situations require that those independent countries whose civilizations enjoy deep popular roots take a more significant role on different world stages."
"Expansion and bolstering of ties between Iran and Turkey is much necessary under these new circumstances," Davoudi stressed.
He further underlined that Iran and Turkey, as two great powers, share abundant commonalities and that Tehran and Ankara could play a decisive role in regional and international equations through an expansion of promotion of mutual cooperation.
"Tehran and Ankara are in a position that they can rapidly develop their relations in different arenas, in economic sector in particular," he added.
Osmanoglu, for his part, called for expanding bilateral relations and added, "Ankara is eager to maximize relations with Tehran in all the different fields."