The first hearing in the case of Macedonia versus Greece is due to start on Monday at the International Court of Justice in The Hague.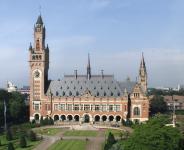 The hearing will cover procedural issues that should determine the future course of the case that is expected to last no less than three years. The court should then set a date for both sides to submit their arguments, and schedule their presentation.
The lawsuit is a side-effect of the 18-year old dispute between the two countries over Macedonia's name.
In April Athens blocked Skopje's NATO invitation arguing that the name Macedonia implies territorial claims over its own northern province of the same name, and threatened to do the same to Macedonia's EU bid in the future. 
Macedonia then decided to sue Greece for the obstruction, arguing it violated the terms of a 1995 United Nations-brokered Interim Accord that regulated relations between the two states.
Established in 1945, the ICJ's main function is to settle legal disputes between states. Its rulings are final and cannot be appealed, but the court has no instruments to make countries comply.
Both sides have so far been quiet about their strategies in the case, which starts with bilateral relations at the worst they have been for several years.
Macedonia recently renamed a main highway 'Alexander of Macedon, after the ancient conqueror claimed by both nations, while last week Greek Prime Minister Kostas Karamanlis reiterated his intention to keep blocking Macedonia's EU progress until Macedonia changes its name.
The Greek team in The Hague comprises the ambassador to the Netherlands, Konstantinos Rallis, diplomat Yorgos Savaidis and Foreign Ministry legal advisor Maria Telalian. Macedonia will be sending its long-standing name negotiator in the UN, Nikola Dimitrov, filling in for Foreign Minister Antonio Milososki.
A new round of UN-mediated talks between the two states has been scheduled for next month, but in the current climate, observers expect little more that diplomatic niceties.