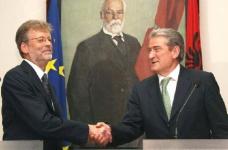 The EU delegation head in Tirana, Helmut Lohan, said that the upcoming June 28 general election will be considered by Brussels as a litmus test for Albania's bid to join the union.
Albania has yet to hold elections that meet international standards, with all six general elections since the collapse of communism in the early 1990s plagued by allegations of ballot-stuffing and intimidation.
"The parliamentary elections will be a test for Albania's accession into the EU," Lohan said during a conference hosting foreign investors on Wednesday.
In an address to the nation on Friday, Albania's Prime Minister Sali Berisha promised solemnly that he would guarantee the fairness of the upcoming general election.
"I take an oath that the main objective [of the government] with be fair electoral process," said Berisha.
"I guarantee this to the people of this country and call an all of you to participate."
The EU has made it clear that these polls must be above criticism if Tirana wants to make progress towards joining the 27-member bloc.
But critics say the Democratic Party government might be tempted to hold on power to avoid investigations for alleged corruption scandals.