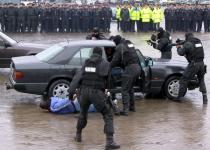 A report released on Wednesday by the Council of Europe lauds Albania's improvements of pre-trial detention conditions and detainee treatment, but says the government still needs to redouble its efforts.
"Improvements in various areas, in particular, in contrast to the findings made during previous visits, nevertheless, a number of credible allegations of recent physical ill-treatment were received," said the CoE's committee for the prevention of torture and inhuman or degrading treatment or punishment, CPT, in a statement.
"Authorities should redouble their efforts to combat ill-treatment by the police and to improve, as matter of urgency, conditions of detention in police stations, which remained unsatisfactory," the statement adds. 
A series of cases of police brutality in the last few months have created a row between the government and Ombudsman Ermir Dobajni, which is accusing the Ministry of Interior of trying to cover up human rights abuses.
Minister of Interior Bujar Nishani has rejected the accusations of the Ombudsman and has sought charges against him, for what he says are "illegal interventions into ongoing investigations. "
Police had accused Dobjani of wrongly interfering in an ongoing investigation, after the ombudsman had sought the release of a 20-year-old who was allegedly beaten in police custody.
The police have denied any abuse took place and accuse Dobjani of ruining an ongoing murder investigation which commenced in 1997.
The human rights watchdog Amnesty International has slammed the Albanian government for its record on police brutality and for suing Dobjani.
"Amnesty International also urges the Minister of the Interior and the Director of the State Police to ensure that police officers at all levels are properly informed of the legal functions and duties of the People's Advocate including the right to enter without any restriction, and without prior authorization, any state institution, including police stations and prisons, and to speak in confidence with any person there, without the presence of officials," a statement said in November.
Dobjani has dismissed the police charges against him as "idiotic" and has said that police brutality has increased in Albania.