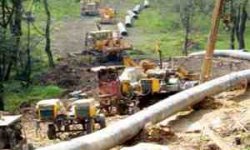 TEHRAN (FNA)- Iran shut its natural gas pipeline to Turkey on Tuesday for maintenance work following a technical hitch.
Mahmoud Loqmani, a supervisor at one of the gas dispatching centers in Iran, said Turkey's state gas company BOTAS was informed of the stop in gas flow.
Turkish media outlets also said that Ankara had already been informed of the cut.
The flow of gas was stopped "with the knowledge" of Turkey's state-run gas company BOTAS, an unnamed official told Anatolia news agency.
"The cut is not expected to take long," he said, adding that the pipeline would remain shut for 24 hours.
In Iran, Loqmani confirmed the statements by the Turkish official that the gas flow to Turkey would resume within the next 24 hours.
Iran is the second gas supplier to Turkey, after Russia, exporting between 15 and 18 million cubic meters of gas daily through the conduit, which runs from the northwestern Iranian city of Tabriz to Ankara.