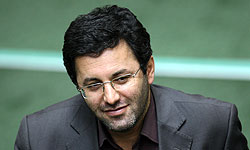 TEHRAN (FNA)- A senior Iranian lawmaker cautioned that the West, especially the US, has resorted to soft overthrow plots to topple democratic governments.
"Today, western states, especially the US, have turned to soft revolution to topple governments in democratic states by inciting public opinion," member of the Iranian parliament's National Security and Foreign Policy Commission Javad Jahangirzadeh said on Tuesday.
"People should be alert against people or groups that are after soft revolution since the enemies spare no efforts to harm the revolution," Jahangirzadeh told Islamic republic news agency in Tehran.
Iranian intelligence ministry announced on Monday that its forces had dismantled a US-backed spy network that was seeking to topple the country's Islamic system.
General Director of the Counterespionage section of Iran's Intelligence Ministry told reporters that the ministry has defused a US "soft overthrow project", adding that four Iranians have been arrested in this regard.
Saying that the CIA had spent about $32 million on the plot, the official added, "The US, using its agents in United Arab Emirate, Baku (Azeri's capital), Turkey, Kuwait and other countries, seeks to implement a velvet revolution and tries to infiltrate the Iranian elites and experts and other social layers."
Soft overthrowing is a dangerous issue, he said, adding that Iran's intelligence departments are trying to put more effort to increase public information on the issue.
He pointed out that four of the ten people involved in the project have been detained, and said, "Those arrested in connection with this case were main agents and network's tops who have deliberately and intentionally cooperated with US intelligence agents and were doing whatever they want."
The intelligence ministry official mentioned "initiating social crisis", "inciting street protests" and "stirring ethnic feuds and unrests" as among the main objectives sought in the plot.
Designers, scientific elites, physicians, professors, athletes, artists and other social groups were targeted in this plot, he said.
"They invited this people to a one month trip to the US and asked some of them for information about biological issues, civil defense and infrastructure of Iran."
"About $32 million of the $75 million budget approved by the US Congress (for the regime change plans in Iran) has been spent in this project and Iran is well aware of the (objectives and places of the) remaining spending," official said.