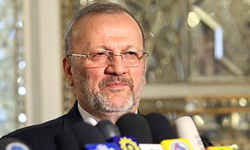 TEHRAN (FNA)- Iranian Foreign Minister Manouchehr Mottaki called on the new US President Barack Obama to understand and recognize the new Middle East now emerging in the world system.
"The most urgent requirement for Obama is to understand the emerging Middle East. To do so, the new US administration needs new Middle East experts," the Iranian foreign minister told FNA at Mehrabad Airport Tuesday night.
"The traditional view on the Middle East will go nowhere" he added.
"The new US administration should, very honestly and seriously, come to the understanding that the policies adopted by the previous US administrations, in particular in the last eight years, on different world regions and specially on the Middle East are the underlying cause of the new world approach towards the US.
"An honest acknowledgement by the new US administration about their previously (practiced) wrong policies might help them in compiling logical policies guaranteeing the interests of the American citizens."
Barack Obama swore in as 44th US president in Washington on Tuesday.
On the future of Iran-US ties, Mottaki said, "We prefer to wait and see what would be the practical policies of the new US administration."