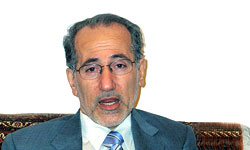 TEHRAN (FNA)- Iraqi National Security Adviser Muwafaq Al-Rubaie said here in Tehran on Wednesday that the anti-Iran terrorist group, the Mojahedin-e Khalq Organization (MKO) will be expelled soon from Iraq.
The Iraqi official made the remarks in a meeting with Iranian Foreign Minister Manouchehr Mottaki here in Tehran today.
Rubaie had also earlier said that his country is determined to implement its decision for closing the MKO headquarters in Diyala province.
"Iraq has made a decision for Ashraf camp and will implement it firmly," Rubaie told reporters following his arrival at Tehran's Imam Khomeini International Airport on Monday.
"We have put forward two solutions for them, they either return to Iran or find a third country for exile. There is no third way for them," he added.
The MKO is on the European Union's list of terrorist organizations subject to an EU-wide assets freeze, and has been designated by the US government as a foreign terrorist organization. Yet, the MKO puppet leader, Maryam Rajavi, who has residency in France, regularly visits Brussels and despite the ban enjoys full freedom in Europe.
The MKO is behind a slew of assassinations and bombings inside Iran, a number of EU parliamentarians said in a recent letter in which they slammed a British court decision to remove the MKO from the British terror list. The EU officials also added that the group has no public support within Iran because of their role in helping Saddam Hussein in the Iraqi imposed war on Iran (1980-1988).
Also at the meeting with Mottaki, Mowaffaq al-Rubaie voiced concern about enemies' plots for sowing discord and animosity among different religious and ethnic groups.
On the US troops' withdrawal agreement, he said that the Iraqi nation should still approve or reject it after expiring the deadline for their pullout.
Noting that Iran and Iraq security is interwoven, Mottaki, on his part, said that Iran attended talks with the US because of Iraq's security.
He urged Iraqi government to release all Iranian detainees from the country's prisons.
Mowaffaq al-Rubaie also met with Iranian Parliament Speaker Ali Larijani Tuesday evening in which the Iranian official stressed the importance of sovereignty and independence of Iraq in the region.
Calling for security arrangements by the regional countries, he emphasized that Hamas victory turned a new page in regional developments despite enemy plots.