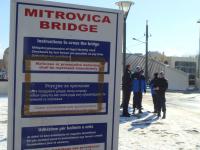 A Vienna-based media watchdog said it was "deeply concerned" about the current media environment in Kosovo, and cited a string of recent brutal attacks on journalists.
The South East Europe Media Organization, SEEMO, said it had been monitoring attacks on journalists, which brought into question press freedom in the newly-independent country.
"SEEMO condemns all threats against journalists as they are a violation of the right to freedom of expression," said SEEMO Secretary General Oliver Vujovic, adding that a free media environment was a vital aspect of a democratic society.
"I call on the authorities to express their commitment to the safety of journalists and protection of press freedom in general."
The statement highlighted the case of TV Most news reporter Mirajana Nedeljkovic, who was attacked and needed to be hospitalised on January 8, while the cameraman working with her was beaten.
"Several journalists working for Most TV were attacked by a crowd as they were on the site of a bomb blast in Bosnian Neighborhood in Mitrovica", it said.
Serbia does not recognise the declaration of independence by its former province and is keeping a firm hold on pockets of Serb minorities in Kosovo, including some 20,000 Serbs in Mitrovica, a flashpoint town divided between Serbs in the north and Albanians in the south.
In late December and early January, tensions in the town spilled over to violent protests, street fights and ambushes that injured several people and caused extensive property damage.