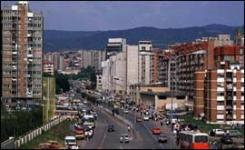 Kosovo's public servants and pensioners will get a pay rise next month, with civil servants receiving a 10 percent increase, while pensioners, people on social assistance and war veterans and their families will get a 12 percent increase.
Kosovo Prime Minister Hashim Thaci said the hike is in accordance with the country's overall economic goals and strategies. Monthly salaries in Kosovo currently average 250 euros, lower than its fellow ex-Yugoslav neighbours and Albania.
"It is an increase that is completely in accordance with our commitments, disciplines, and the realization of our priorities with international mechanisms such as the IMF (International Monetary Fund). It is the first step to openly expand our future", he said.
Government spokesman Memli Krasniqi conceded that the IMF had criticized the wage increase, which the government passed after a wave of protests. Health care workers protested late last year and police and other public servants have scheduled protests for later this month.
"We heard criticism from the IMF, but we wanted to at least realize these increases in the first year," he said.
Deputy finance Minster Bedri Hamza said Kosovo's 2009 budget could afford the increases, which were in accordance to earlier governmental promises.
"The IMF has informed us to be careful with these policy decisions but understands the need for its implementation. We are sure that we will be able to protect the fiscal conditions of the budget".