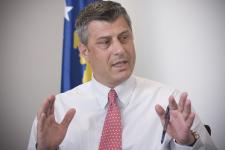 Serbia will never make it into the European Union if it keeps trying to sabotage Kosovo's newly-declared independence and territorial integrity, Kosovo Prime Minister Hashim Thaci said in an interview.
In an interview with Austrian daily Der Standard, Thaci said Kosovo, which declared independence from Serbia last February, wanted "good neighbourly relations" with Belgrade.
He said Kosovo's authorities were prepared to sit down with Serbia to discuss issues of common interest, as long as any talks took place under the clear understanding of mutual respect for the sovereignty of the other.
"We know that the recognition from Belgrade will take a lot more time," Thaci said, noting that Serbia was reacting "very negatively" and trying to undermine Kosovo's sovereignty. Pristina has accused Serbia of fomenting unrest in Mitrovica, a divided town in north Kosovo that has seen frequent clashes between majority Albanians and minority Serbs, and pushing for a partition of Kosovo.
"Kosovo's territorial integrity is inviolable," Thaci said. "It is time that Belgrade understands that it will not have a European future if it threatened the independence of an independent state."
Reminded that a similar argument was used by Serbia to oppose Kosovo's secession, Thaci said that Belgrade's stance mirrored the stance of the regime of late strongman Slobodan Milosevic, whose policy of oppression in what was then Serbia's southern province led to an armed rebellion by the guerrilla Kosovo Liberation Army. Belgrade's brutal response drew in NATO, which expelled Serb forces and placed the territory under international supervision.
Serbia has said it will never accept Kosovo's "illegal" secession and is currently blocking the entry of the new state into the United Nations and other international organisations.
"Kosovo was never Serbia's property," Thaci said. "They occupied this land and committed genocide. It is time that Serbia thinks about what it did and apologises to the citizens of Kosovo. In Kosovo the face of Serbia is the face of genocide, no more no less."