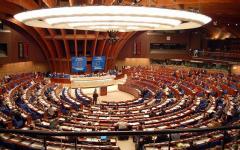 Efforts by Tirana to dismiss an Albanian deputy in the assembly of the Council of Europe, CoE, have temporarily frozen Albania's voting rights and created a political storm at home
Albania's parliament speaker, Jozefina Topalli, asked the CoE in a letter to replace Aleksander Biberaj, currently the deputy head of the CoE assembly, with former justice minister Ilir Rusmajli. Topalli justified her decision saying that Biberaj, a member of Prime Minister's Sali Berisha Democratic Party, had sought compensation for unnecessary travel expenses.
Biberaj denied the charges, and slammed Topalli's decision as illegal because he had been voted by parliament and could not be dismissed by her. He said that he would sue the speaker for slander
While two envoys travelled to Strasbourg on Sunday for the same seat, the CoE assembly decided to launch a commission to investigate if the speaker's decision was in accordance with Albania's parliamentary rules.
According to the one member of the delegation, the assembly in the meantime has frozen the country's voting rights.
Albania's opposition Socialists accused the speaker and Berisha of staining the country's reputation through their decision to dismiss Biberaj.
"The decision of the CoE to freeze Albania's voting rights is a stain, the price that Albania has to pay for the communist mentality of Prime Minister Sali Berisha," said Socialist spokesperson Mimi Kodheli.
"Berisha and Topalli showed us one more time that they are the leaders that we don't deserve, and do not need," Kodheli added.
Former Prime Minister Ilir Meta, the head of the Socialist Movement for Integration, underlined that the decision to dismiss Bibereaj should have passed through the Albanian parliament.
"No one should offend the personality of this country and its relationship to international organizations," said Meta. "I don't understand that all parliamentary procedures can be ignored in this manner, damaging Albania's image in the world."
The speaker's decision came also under fire by MPs of Berisha's own Democratic Party.
"Topalli has breached twice her competences and duties as parliamentary speaker, first she does not pay his expenses at a time when he was fulfilling his CoE duties, and second in the procedures of his replacement," said deputy Besnik Mustafaj.
" I express my concern because the dignity of an MP has been infringed up, as has parliamentary ethic, because he has not been notified directly of the dismissal."