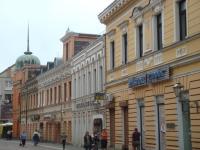 Leaders of Bosnia's three strongest ethnic parties on Monday agreed on what appears to be a new administrative and territorial setup for the troubled Balkan country.
The agreement envisages the country divided in four rather than the current two regions set up at the end of the 1992-95 war between Bosnia's Serbs, Bosniaks (Bosnian Muslims) and Croats.
The joint press statement was signed by Milorad Dodik from the Bosnian Serb Union of Independent Social Democrats, SNSD, Sulejman Tihic from the Bosniak (Bosnian Muslim) Party of Democratic Action SDA and Dragan Covic from the Bosnian Croat Democratic Union, HDZ.
The statement offered only no information, adding only that the three leaders will work on the details until their next meeting.
Even with such scarce detail, this agreement appeared to represent almost a historic shift from the three men's previous dug-in positions and is expected to raise many questions, local officials and analysts said.
"We too have just seen these news and are now analyzing what it means," said Damir Arnaut, legal advisor to Haris Silajdzic, the Bosniak member of the state tripartite presidency.
The agreement was reached at a Monday meeting of the three Bosnian leaders in Banja Luka. During their previous two meetings, the three politicians came up with a framework agreement to resolve a series of issues, which remain key for the closure of the powerful peace overseeer, the Office of the High Representative, and for Bosnia's continued path towards the EU.
Those issues include division of state property and legalization of the status of Brcko district.
Their agreements until today were met with criticism and opposition from most other political parties and Monday's agreement is not expected to have better fate. Although SNSD, SDA and HDZ are by far the three strongest ethnic parties, they lack the majority needed to have their deals adopted through parliaments at the state level and in the Bosniak-Croat Federation.
Leaders' failure to agree on a more efficient and less complex administrative setup and the failure of the latest constitutional reform in 2005 led to increased political and ethnic tensions and the worst political crisis since the end of the war.