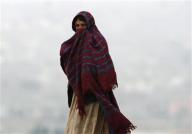 KABUL  – Afghanistan on Thursday announced presidential elections for August 20, hoping a U.S. troop surge will improve security at a time when violence is at the highest levels since the 2001 overthrow of the Taliban.
President Hamid Karzai has strongly hinted he will run for re-election saying he still has "a job to complete," but his popularity has waned both among Afghans and his Western backers due to rampant corruption and weak government outside Kabul.
President Barack Obama has ordered a comprehensive review of U.S. strategy in Afghanistan, which a White House official said would have a "significant non-military component," a reference to a likely increase in development aid..
Obama is also considering almost doubling U.S. forces in Afghanistan from 36,000 to more than 60,000 to secure the polls. A similar troop surge in Iraq improved security there greatly.
Western nations see successful Afghan elections as a key marker of progress in the face of a Taliban insurgency that has grown stronger in the ethnic Pashtun heartlands of the south and east and is now encroaching into areas just outside the capital.
U.S. Defense Secretary Robert Gates on Tuesday described Afghanistan as America's greatest military challenge.
The Pentagon's ability to boost its forces in Afghanistan depends partly on how quickly it can withdraw them from Iraq, where 140,000 U.S. troops are deployed.
ELECTION DATE
Independent Election Commission chief Azizullah Ludin said August 20 was chosen for the Presidential poll after consulting with Afghan and international security forces.
"They told us there will be new security forces here … and they will guarantee security," Ludin told a news conference.
NATO said the date would give the alliance enough time to deploy sufficient reinforcements to help protect the vote..
The United States has about half the nearly 70,000 foreign troops in Afghanistan and if Obama gives the go-ahead for more deployments, its share will dwarf other nation's contributions. Britain has the second biggest force with 8,000 troops.
But while European nations have been slow to come up with extra forces, Washington is expanding the Afghan army from 80,000 soldiers now to 134,000 by 2012 and Afghan troops, together with police, will provide much of the security on election day.
Karzai, an ethnic Pashtun from the south, has led Afghanistan since U.S.-led and Afghan forces toppled the Taliban in the wake of the September 11 attacks, first as head of an interim administration and then after winning elections in 2004.
But since then, the Taliban have regrouped and launched an insurgency to overthrow the government and drive out foreign troops, with guerrilla attacks and hundreds of suicide bomb attacks that have killed scores of troops and civilians alike.
Once the darling of the West with his ethnic robe and hat, Karzai has since fallen out of favor with his Western backers.
Before his election, Obama said in July that "Karzai has not gotten out of the bunker and helped to organize Afghanistan, and the government, the judiciary, police forces, in ways that would give people confidence."
For his part, Karzai has hit back, strongly criticizing U.S. and NATO forces for killing dozens of civilians in air strikes — incidents that provoke extreme anger among Afghans and seething resentment against the presence of foreign troops.
While no candidates have officially announced they will run, diplomats say there are few, if any, alternatives to Karzai who would gain support from majority Pashtuns, the traditional rulers of Afghanistan, and be able to govern effectively..