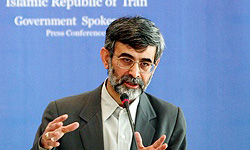 TEHRAN (FNA)- Iranian Government Spokesman Gholam Hossein Elham said that Iran was looking for "practical change" in US foreign policy towards Tehran under the new US president.
"We are awaiting for practical changes by the new US statesmen," Elham was quoted as saying by the Iranian students news agency.
Referring to the new US administration led by President Barack Obama, Elham reiterated, "On several occasions our president (Ahmadinejad) has defined Iran's views and the need for a change in US policies."
Echoing President Mahmoud Ahmadinejad's position, Elham said the United States "should accept it is a government within its own limits not an empire."
His comments followed Obama's interview with the Arab satellite television channel Al-Arabiya in which he extended a diplomatic hand to the Muslim world.
"As I said in my inauguration speech, if countries like Iran are willing to unclench their fist, they will find an extended hand from us," Obama said.
"It is very important for us to make sure that we are using all the tools of US power, including diplomacy, in our relationship with Iran."
Iran's Foreign Ministry Spokesman Hassan Qashqavi also said today in Japan that the world is waiting to see the US President Barack Obama's "unclenched fist in practice" after his motto of "change".
Iran also underlined that it wants a change of US policy towards Israel and Palestinians.
Earlier this month Ahmadinejad accused Obama's yet-to-take-office government of hostility towards the people of Gaza when it was under Israeli attack, and urged the new administration to "condemn the Zionist regime and not support it."