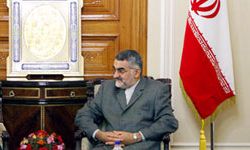 TEHRAN (FNA)- Criminals and gangs are undermining Tehran-Islamabad friendly relations and the Pakistani government should be aware of that," a senior Iranian MP warned.
In a meeting with Pakistani Ambassador to Tehran Mohammad B. Abbasi, chairman of the Iranian parliament's National Security and Foreign Policy Commission Alaeddin Boroujerdi urged Islamabad to extradite anti-Iran terrorists.
Iran's appeal came as Terrorist militants killed a number of Iranian soldiers in an ambush in the country's southeastern borders with Pakistan on Monday.
The terrorists crossed Iran's southeastern borders in Sistan and Balouchestan province and fled back to Pakistan after conducting their sabotage operation.
Iran's southeastern border with Pakistan is a sensitive region and has been the scene of deadly clashes between Iranian security forces and armed drug traffickers and militants.
Boroujerdi urged Pakistan to take serious and effective measures to impede the terrorists from deteriorating the two countries' relations.