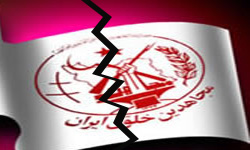 TEHRAN (FNA)- The European Union's decision to take the anti-Iran terrorist group, the Mojahedin-e Khalq Organization (MKO) off its blacklist has caused angry reactions in the Iranian society.
Iran's Attorney General Ghorbanali Dorri Najaf Abadi condemned the EU action and called it an unjustifiable measure.
Najaf Abadi said the action indicates the EU's wrong perception of the phenomenon of terrorism and reveals the politically-motivated measures adopted by certain powers.
"From the point of view of some communities and powers, terrorism occurs only when it jeopardizes their interests," the attorney general added.
According to a report by the Iranian students news agency, the Islamic Iran Participation Front Secretary General Mohsen Mirdamadi in a letter to EU Foreign Policy Chief Javier Solana expressed strong opposition to the move and called for the EU to revise the decision.
Removing the terrorist organization from the blacklist raises serious questions about EU's real commitment to international principles, the letter stressed.
Considering the disastrous terrorist measures of the organization against officials and civilians of Iran and Iraq and its destroying of the democratization process by creating fright and panic, the EU support for the organization violates its claims and concerns over terrorism, it added.
Families of victims of the MKO terrorist activities in Iran, Habilian or the Ables' Association also issued a statement that condemned the measure, saying the name of the group will remain in Iranians' blacklist forever, the agency added in its report.
The remarks by the EU decision-makers over the issue shows that irrespective of their intention, they should be ashamed of their behavior, the statement said and added the measure has no benefit for any of the parties involved.
Representatives of five Iranian university student associations also came to the embassy of the Czech Republic, as the EU's rotating presidency, and submitted their letter of protest to the charge d'affaires.
The letter points to the EU's double standards, and indicates that the union is seeking to hurt Iran's interests.