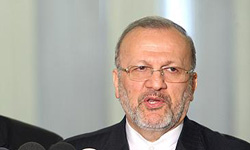 TEHRAN (FNA)- Iranian Foreign Minister Manouchehr Mottaki Tuesday dismissed the United Arab Emirates' claims on the Iranian island of Abu Moussa.
"Emirates' expansionist claims and propaganda on Abu Moussa island lack legal basis or historical documents," Mottaki said to Iranian parliament members.
The Iranian foreign minister had been summoned to the parliament to explain about his ministry's silence over expansionist policies of the UAE and its interference in Iran's internal affairs.
Iran's sovereignty over Persian Gulf and its islands, including Abu Moussa, is definite and clear, Mottaki said.
The minister also reiterated that the country will powerfully defend its territorial integrity, Mottaki said.
"We will defend every inch of our land," he underlined.
The issue was resolved in the mutually-reached agreement, the letters exchanged and relative statement in 1971, he concluded.
"We advise the UAE and its officials to change their attitude and avoid taking unfriendly, illegal and undocumented moves to this effect," added the Iranian foreign minister.
Iran has had peaceful and friendly ties with its neighbors, he said, adding that the country is to give a definite and clear response if required.
International documents clearly show that the three islands, which were historically owned by Iran, temporarily fell to British control in 1903. The islands were returned to Iran based on an agreement in 1971 before the UAE was born.
Iran has repeatedly declared that its ownership of the three islands is unquestionable.
Under international law, no state can defy any agreements, which came into being before its establishment.
Although the UAE continues to make territorial claims against the Islamic Republic despite historical evidence and international regulations, Tehran has remained open to negotiations over the issue.