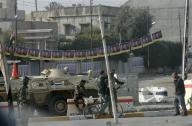 MOSUL, Iraq  – In Iraq's most violent province, where al Qaeda and a medley of insurgent groups are making a last stand, an election in two days could help bring peace or stoke fresh conflict between Arabs and Kurds.
Iraqis vote on Saturday for the first time since 2005 in a provincial poll that is likely to redraw the political map almost six years after the U.S-led invasion triggered horrific sectarian violence.
The stakes are high in Nineveh in the north, an ancient battleground between rival ethnic and religious groups, which is majority Sunni Arab but some of which Kurds claim as their own.
Sunni Arabs boycotted the last provincial polls in 2005, leaving them with only 10 out of Nineveh's 41 council seats, despite making up 60 percent of the population. Kurds control 30 seats, despite being just a quarter of the population.
The imbalance has helped fuel an angry insurgency by Sunnis, who dominated Iraq under Saddam Hussein. They are expected to turn out in large numbers to elect the 37 council seats being contested this time.
"The (Sunnis) of Nineveh will take part because they see the problems that ensued from not taking part last time," Mohammed Shakir, head of the Nineveh arm of the Iraqi Islamic Party, told journalists in the war-battered provincial capital Mosul.
"We hope this time the council is going to be far more representative of the province's ethnic and religious groups."
Tensions are rising between Kurds and Arabs in Iraq, just as the sectarian war between Sunni and Shi'ite Muslims has eased.
While much of the country enjoys its best security in years, Mosul and Nineveh are struggling to shake off a determined insurgency. Gunmen have killed two candidates here.
Al Qaeda regrouped here in 2007 after being driven out of former strongholds in Baghdad and western Iraq.
"We're expecting that al Qaeda will try to create violence to cause disruption," said Major Karl Neal, head of U.S. military intelligence for Nineveh. "Mosul is al Qaeda's last stand."
CAR BOMBS
A vehicle ban will halt car bombs, but suicide bombers may try to target polling stations, officials say.
That presents a dilemma for the U.S. military, which must be seen to be staying away from the polls but is still needed for security and whose armored vehicles are the only safe means of passage for election monitors in the province.
U.S. officials say a dozen other groups in addition to al Qaeda are fighting in Nineveh. Many are secular nationalists or remnants of Saddam's Baath party.
Neal said they may stay quiet so as not be seen to be thwarting a return of Sunni Arabs to power in Nineveh.
One party hoping for success is al Hadba, a new bloc that includes former Baathists. Atheel al-Nujaifi, the party's head, himself once a Baathist, is campaigning against the U.S. occupation but also against violence.
Nujaifi accuses Kurdish Peshmerga fighters of intimidation. "When the Kurds realize they are losing their power, they are not going to be reasonable. They will want to hold on," he said.
Smaller minorities in Nineveh — like Christians and Yazidis — have tried to sit on the fence but found themselves compelled to back whomever can protect them.
The winners will have to rebuild Mosul, a ruined city housing two thirds of Nineveh's 2.6 million people. Fighting has reduced buildings to rubble, electricity is scant and raw sewage spews into the Tigris river. Unemployment is rife.
"Violence is a result of unemployment," said Shakir. "Someone who does not work, does not have food or clothing. Is he going to behave like a human being or a beast? That is what has happened."