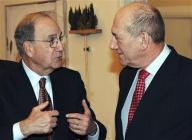 GAZA  – Palestinian rocket attacks and Israeli air strikes threatened on Thursday to undermine efforts by U.S. President Barack Obama's Middle East envoy to reinforce a fragile Gaza ceasefire.
Palestinian militants in the Hamas-ruled Gaza Strip launched one rocket into Israel late on Wednesday — the first since the January 18 ceasefire — and another on Thursday. No one was hurt.
Israeli aircraft then struck in the southern Gaza Strip, attacking a metal workshop that the military called a weapons factory, causing no casualties, and a motorcycle, wounding two militants and 10 youths passing by, medical workers said.
The surge of violence over the past two days threatened to reignite a war that Israel launched on December 27 with the declared aim of ending cross-border rocket fire.
Former U.S. Senator George Mitchell, Obama's envoy, planned to meet Palestinian President Mahmoud Abbas in the occupied West Bank following talks on Wednesday in Egypt, which has been trying to broker a long-term truce, and Israel.
Mitchell, repeating Obama's call for a return to peace talks, said it was "of critical importance that the Gaza ceasefire be extended and consolidated."
But with an election approaching on February 10, Israeli leaders have been talking tough on security, a main voter concern.
They have pledged a forceful response to an explosion that killed an Israeli soldier on the Gaza border on Tuesday and to the rockets. Palestinian militants said the rockets were payback for Israel's killing of three Palestinians since the truce began.
"HAMAS MUST LEARN"
"Hamas has to know that these rockets are their responsibility and they will learn that shooting rockets into Israel is simply not in their interest," said Mark Regev, a spokesman for Prime Minister Ehud Olmert.
Some 1,300 Palestinians, including at least 700 civilians, were killed during Israel's 22-day offensive in the Gaza Strip, according to the Hamas-run Health Ministry in the territory.
Israel put its losses at 10 soldiers and three civilians.
In Jerusalem on Wednesday, Mitchell said any durable truce must end smuggling into the Gaza Strip and reopen border crossings to relieve Israel's economic blockade of the enclave, where half the 1.5 million population depend on food aid.
Olmert told Mitchell that Israel would not reopen any Gaza crossings, except for aid shipments, until an Israeli soldier captured in 2006 was freed, an Israeli official said.
Israeli opposition leader Benjamin Netanyahu, who tops opinion polls ahead of the election, saw more violence ahead.
"It's clear Hamas is rearming. Of course it's attacking us. Of course it's trying us," Netanyahu told Israel Radio. "The next government will have no choice but to finish the work and remove the Iranian terror base for good."
Israel has secured U.S. and European pledges to help to prevent Hamas, which it says receives weapons from Iran, from rearming through tunnels under the Gaza-Egypt border and by sea.
It has lobbied its Western allies to put pressure on Cairo to better seal its border with the Gaza Strip.
Israel tightened its blockade of the Gaza Strip after Hamas seized the territory in internal fighting in 2007, and the tunnels have been the only way for Gazans to get access to the commercial goods that Israel keeps out.
Providing emergency aid, the United Nations Relief and Works Agency gave each of the 200,000 students in the schools it runs in the Gaza Strip a 100 shekel ($25) stipend on Thursday.