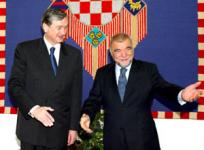 Croatia said it had moved closer to resolving an 18-year-old border dispute with Slovenia which has been threatening to freeze its European Union membership bid.
Diplomats say the dispute, which the two countries have not been able to settle since the dissolution of federal Yugoslavia in 1991, must be resolved quickly if Croatia is to complete EU accession talks this year and join the bloc in 2011.
Experts from both countries said they had agreed to confine their dispute to a 6-km (4-mile) stretch of land border but had made less progress on a sea border in the Northern Adriatic. The land border is 664 km long.
"In these 18 years, perhaps we have never come closer to reaching a proposal on how to overcome this which we could put forward to our governments," Davorin Rudolf, head of the Croatian team, told a news conference.
The countries still need to agree on what type of international arbitration would be acceptable to both. EU-member Slovenia has for the last few months vetoed the opening and conclusion of a number of negotiating chapters in Croatia's EU entry talks because of the border row.
Rudolf said he wanted to pursue talks but his Slovenian counterpart, Miha Pogacnik, said he needed to consult his government before moving forward.
"We have discussed everything. But for some issues that need political negotiations, we shall need replies from the governments. Our legal side of the work is more or less finished," Rudolf said.
Croatia preferred to see the dispute settled before the International Court of Justice in The Hague but did not rule out international mediation, he added.
The European Commission has asked veteran diplomat Martti Ahtisaari to help mediate if both parties agree to it.
"I think Brussels has become very annoyed with this issue and they want it to end. Eventually both countries will have to agree to international mediation, after which Slovenia will lift their veto," Croatian political analyst Zeljko Trkanjec said.