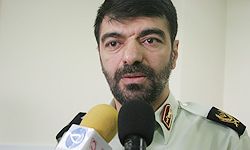 TEHRAN (FNA)- Iran is ready to fight and annihilate Pakistan-based terrorist groups in case Islamabad voices content and issues the required permit, Deputy Police Chief Ahmad Reza Radan said.
Radan's remarks came as terrorist militants killed a number of Iranian soldiers in an ambush in the country's southeastern borders with Pakistan on Monday.
The terrorists crossed Iran's southeastern borders in Sistan and Balouchestan province and fled back to Pakistan after conducting their sabotage operation.
Iran's southeastern border with Pakistan is a sensitive region and has been the scene of deadly clashes between Iranian security forces and armed drug traffickers and militants.
"There has been found no relation between these events and Abdul Malik Rigi (a well-known gang leader whose group has already staged several terrorist operations in southeastern Iran)," Radan said, adding that further investigations are underway.
Urging Pakistani police to be accountable for the events, he described Pakistan's role in border control as important and said, "The Pakistani border guards have not contributed their role properly while they also lack the necessary abilities."
"If Pakistan permits, we are ready to enter its territory and start an operation for uprooting and annihilating the terrorists," Iranian deputy police chief reiterated.