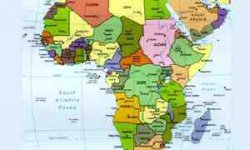 TEHRAN (FNA)- Economic and trade relations between Iran and Sierra Leone have undergone a good level of growth, Tehran's ambassador to Freetown said.
Nosratollah Maleki told journalists yesterday that for the past years, the relations between Iran and Sierra Leone have improved in many areas.
He said the Red Crescent society of the Islamic Republic of Iran is supposed to donate 1 ambulance, 2 dialyze units and also offer training to 6 nurses.
"The Islamic Republic of Iran will continue its cultural and educational support for Sierra Leone. The Iranian private sector is making in-roads in the country. The Sepahan Afrique company is active in agriculture, industry and trade in Sierra Leone," he said.
Maleki disclosed that a memorandum of understanding has already been signed between his country and Sierra Leone on lifting visa requirements for holders of diplomatic and service passports.
The Iranian ambassador said in line with his country's development policies, a 20 year vision plan has been developed, with its implementation currently underway.
"As a result of its implementation, Iran will be transformed into a developed country, enjoying high status in economic, scientific and technical fields," he noted.
According to Maleki, Iran believes that the use of nuclear energy for peaceful purposes such as medical and agriculture is the right of all nations and shall not be monopolized by those countries who wish to impose their control over others.