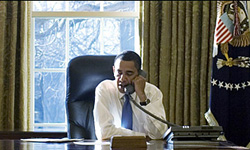 TEHRAN (FNA)- US President Obama's administration is preparing to send a letter to the Iranian people aimed at setting the tone for a new relationship and the first direct talks in decades between the two countries.
According to the UK's Guardian newspaper, Obama's staff have been working on the letter since the day he was elected and there are currently three drafts under consideration. All of them aim to pave the way to direct talks between Iran and the – the first such contacts in three decades.
Sources told the Guardian that the letter will be signed by Mr. Obama, addressed to the Iranian people, and sent either directly to Supreme Leader of the Islamic Revolution Ayatollah Seyed Ali Khamenei, or released as an open letter.
The United States and Iran broke diplomatic relations in April 1980, after Iranian students seized the United States' espionage center at its embassy in Tehran. The two countries have had tense relations ever since.