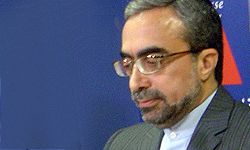 TEHRAN (FNA)- The European Union decision to take the anti-Iran terrorist group, the Mojahedin-e Khalq Organization (MKO), off its blacklist will embolden terrorists, Iranian deputy foreign minister said.
The European Union decided Monday to remove the MKO from its blacklist, a move which caused angry demonstrators to pour to the streets in Tehran.
The 27- nation bloc's foreign ministers, meeting in Brussels, decided to drop MKO from the blacklist. The MKO had been blacklisted as a terror organization by the EU since 2002.
The MKO, whose main stronghold is in Iraq, is blacklisted by much of the international community, including the United States.
Deputy Foreign Minister for education and research Ali Ahani also stressed in a meeting with ambassadors from the Commonwealth Independent States ( CIS) here in Tehran on Wednesday that the EU should account for its decision to the world public opinion.
Noting that terrorism is a universal problem, he said that the entire "world is determined to fight against this phenomenon".
Elsewhere, Ahani urged the trail of Israeli leaders as war criminals and said that the regime has always created some obstacles on the way of regional stability as its existence depends on war and instability.