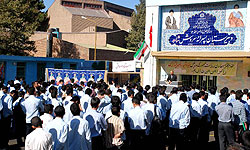 TEHRAN (FNA)- Iranian school bells rang throughout the country Saturday morning to mark the glorious return home of the Founder of the Islamic Republic, the late Imam Khomeini, after 15 years of exile in 1979.
Meanwhile, trains, ships and factories sounded their whistles this morning as a token of marking the start of the Ten-Day Dawn ceremonies, celebrating the 30th anniversary of the victory of the Islamic Revolution.
On this day in 1979 the Imam arrived at Tehran International Mehrabad Airport amidst a warm enthusiastic welcome and later proceeded towards the city's cemetery Behesht-e Zahra where he made a historic speech.
According to the Islamic republic news agency, on this occasion, today, a large number of school students in different parts of the country, performed various cultural and artistic programs.
In related developments, Education Minister Ali-Reza Ali-Ahmadi rang the bell of a secondary school in southern Tehran this morning.
Addressing the students and teaching staff of the school, the minister said the leadership of the late Imam Khomeini and vast presence of people in all aspects of life led to the victory of the 1979 Islamic Revolution in Iran.
Today, the Islamic Republic is free and independent and follows the Islamic values and principles, he added.
The Iranian nation, through unity and solidarity, managed to neutralize the enemy's conspiracies in the past three decades following the victory of the Islamic Revolution, Ali-Ahmadi said.
He further lauded the scientific achievements of the Iranian youth.