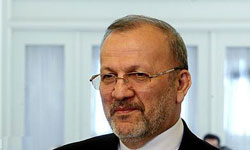 TEHRAN (FNA)- Iran and the US are not scheduled to attend bilateral talks on the sidelines of a security conference due to be held in Munich, Germany on Feb. 6-8, Iranian foreign minister said on Sunday.
Manouchehr Mottaki said that Iranian Parliament Speaker Ali Larijani will take part in the conference, and stressed that the Iranian official is not scheduled to meet US counterparts, the Islamic republic news agency reported.
US Vice President Joe Biden is also due to attend the conference which is the 45th Munich Conference on Security Policy.
Some media reports in recent days claimed that top Barack Obama advisers and Iranian officials have been negotiating over the past year.
Nuclear non-proliferation experts had several "very, very high-level" contacts in the last few months with Iranian leaders, said Jeffrey Boutwell, executive director for the US branch of the Pugwash group, an international organization of scientists which won the Nobel Peace Prize in 1995.
Former defense secretary William Perry, who served in Obama's election campaign, participated in some of these meetings focused on "a wide range of issues that separate Iran from the West: not only their nuclear program but the Middle East peace process, Persian Gulf issues," Boutwell told AFP.
The Pugwash official declined to name the other participants, except to say they had considerable clout. Tehran rejected the reports, saying that there had been no meaningful contacts between the two sides.
"It is possible that some Iranian officials have greeted US officials in some conferences and meetings but it's not called negotiations," Iranian Intelligence Minster Gholam Hossein Mohseni Ejeie said on Sunday.