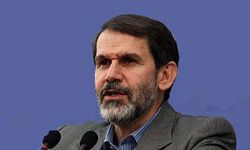 TEHRAN (FNA)- Iranian Interior Minister Sadeq Mahsouli announced that his ministry is seeking to employ computer technology for the different phases of the next presidential election in the country.
"Three phases of the election, including registering the candidates, reading the individual voter's national card number and vote collection, will be done by computers," Mahsouli said.
The Interior Ministry has been preparing itself for the last three months to go digital in the next presidential election, Mahsouli added.
"The development of vote counting software is also in its final stages and would be used to count the ballots if the Guardians Council gives its approval for the digital vote counting," the interior minister noted.
The minister said that the 10th Presidential Election Headquarters will officially start having an effect within a month.
In addition to current President Mahmoud Ahmadinejad, several figures from the Principlist and Reformist camps have declared their candidacy in Iran's presidential contest. Former Parliament Speaker Mehdi Karroubi, who lost the 2005 presidential contest, is among the Reformist nominees.
Tehran's Mayor Mohammad Baqer Qalibaf, Minister of Labor and Social Affairs Mohammad Jahromi, former Interior Minister under Ahmadinejad Mostafa Pour Mohammadi and former Vice-President under Khatami Mohammad Reza Aref are also among the possible contenders.
Yet, former President Mohammad Khatami, viewed as the most serious rival for Ahmadinejad, announced following long time of contemplation that he would not run in the next presidential polls.
According to FNA, Following a long meeting with the last Iranian Prime Minister, Mir Hossein Mousavi, Khatami told his allies that he would stay away from the next presidential campaign.
Khatami's personal decision faced serious opposition by leaders of reformist groups as members of the central council of the Islamic Revolution Mojahedin Organization and members of the Mosharekat (Participation) Party – the reformist movement mainstreams – have announced that Mousavi is not a good option to represent reformists in the upcoming election.
According to some reports, Mousavi is yet to announce his final decision and his office is due to issue a formal statement in this regard in the near future.
Iran's presidential election will be held on June 12, 2009.