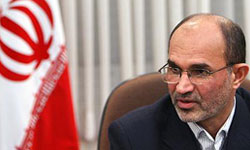 TEHRAN (FNA)- Iranian Oil Minister Gholam Hossein Nozari said Saturday that Iran's oil income reached $64 billion for the first nine months of the Iranian year (from March to December 2008).
"The Islamic Republic's oil revenues for the first nine months of the Iranian year stood at 64 billion," Nozari was quoted by press tv as saying.
The Iranian government has based its budget bill for 2009-10 on an oil price of 37.5 dollars per barrel, compared with $55 which is the oil price in this year's budget.
Oil prices surged to record highs in July of 147 dollars a barrel. But the price has since plunged to below 40 dollars.
Iran's economy is vastly dependent on oil as it accounts for 80 percent of the country's foreign exchange revenues.
Iranian President Mahmoud Ahmadinejad said last Tuesday that his administration has sought to decrease the country's dependence on oil revenues when drafting the next year budget.
"The bill has been drafted on the basis of lesser dependence on oil revenues as well as development of infrastructures and operations. The government's spending will be restricted," Ahmadinejad said while submitting the 89-billion-dollar national budget to the parliament.
Nozari said Iran has cut its oil output by more than 500,000 barrels per day (bpd) in line with OPEC's December decision to reduce supplies.
The oil minister said a rise in the price of fuel meant Iran would need to spend $3 billion by the end of the current Iranian year (March 2009) to import gasoline and diesel.