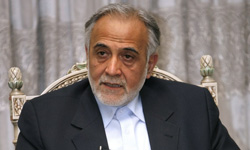 TEHRAN (FNA)- Iranian First Vice President Parviz Davoudi said Sunday that Tehran will not spare any efforts to help Turkey if West decides to press Ankara for the anti-Israeli stance adopted by the country's premier in the Davos conference.
"Turkey as a great country with deep roots, like Iran, will not be harmed by sanctions. If the West puts pressure on Turkey, we will not spare our help to our friends and brothers," Davoudi told reporters on the sideline of a congress dubbed 'Innovation and 30-Year-Long Achievements of Iran's Medical Sciences' in Tehran.
Referring to the western countries' possible reaction to the Turkish prime minister's walk off in the Davos Forum in protest at the Israeli crimes in Gaza, Davoudi added, "Turkey is a great country and has great people and huge resources."
"Turkey is an important country in the region and its role in global politics and equations must be seen through a proper and comprehensive view," the Iranian firs vice president said.
Erdogan walked off in front of UN Secretary-General Ban Ki-moon and other panel members complaining that his comments on the Israeli onslaught against Gaza were cut short by the Washington Post's moderator David Ignatius.
Erdogan tried to respond to a 25-minute defense of Israeli military operations in Gaza by President Shimon Peres, but when after about a minute he was told he could not speak as it was time for dinner he walked out of the prestigious conference.
"Don't interrupt me. You are not allowing me to speak," he told the moderator, adding, "I will not come to Davos again."