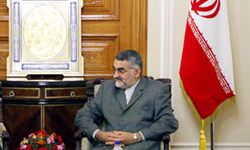 TEHRAN (FNA)- Chairman of the Iranian parliament's National Security and Foreign Policy Commission viewed Turkish Prime Minister Recep Tayyip Erdogan's stance against the Zionist regime as affected by Iran's Anti-Zionist Strategy.
"The Turkish prime minister's action shows this reality that there is a global hatred for the Zionist regime's crimes and we see that such countries as Turkey which have relations with this regime have grown hatred for these crimes," he told FNA here on Sunday.
"This hatred is an important reality in the Zionist regime's history that cannot be neglected," Alaeddin Boroujerdi added.
Erdogan stormed out of a Davos forum after a heated debate with Israel's President Shimon Peres and slamming Washington Post's moderator David Ignatius.
Erdogan, who leads one of the few Muslim countries to have diplomatic ties with Israel and who has sought a peacemaker's role in the Middle East conflict, said Israel had carried out "barbaric" actions in Gaza.
"I find it very sad that people applaud what you have said because many people have been killed," he shouted at Peres before being cut off by Ignatius.
Noting that Erdogan's action gives a lesson to many Arab leaders, Boroujerdi reiterated, "The US and some western and Arab countries' support for this (Israeli) regime caused these countries' isolation in the world public opinion."