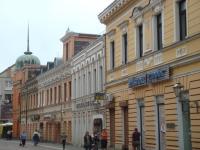 The junior partner in the Bosnian Serb ruling coalition, the Party of Democratic Progress, PDP, said it was walking out of the government led by the Alliance of Independent Social Democrats, SNSD, and going into the opposition.
The walkout does not affect the stability of the government in the Serb-dominated Bosnian entity of Republika Srpska, as PDP holds only few posts in legislative and executive institutions both on the state and entity level.
The announcement, made over the weekend, came after the SNSD rejected the PDP's request for changes in several key government policies, including a reduction of the current 17 percent Value Added Tax on the state level, and more funds for agriculture.
The president of the SNSD's executive board, Nebojsa Radmanovic, told media that PDP's requests were "unacceptable" and the SNSD is ready to rule on the local, entity and state level without its former junior partner.
The PDP's vice president Slobodan Nagradic said that the reaction of the SNSD clearly showed that "the SNSD doesn't want to go with us." Nagradic added that in the next few days PDP cadres will step down from all executive positions they currently hold.
Relations between the two parties were shaky since the time of early presidential elections in Republika Srpska in December 2007, when the SNSD in its campaign attacked the PDP's president Mladen Ivanic. SNSD candidate Rajko Kuzmanovic won the elections, but relations never fully recovered.
Some analysts believe that the PDP's requests were set too high, indicating that they could have deliberately searched for a motive to abandon the ruling coalition.
The SNSD and its popular leader Milorad Dodik are near-uncontested both in Republika Srpska and the state level.
But analysts say the PDP's walkout could lead to a power shift in favour of Dragan Cavic, a former president of the Serb Democratic Party, SDS, who recently established his new Democratic Party. With the new party aiming for a moderate, civic-oriented profile, Cavic is expected to collect support from liberals as well as more hardline nationalist SDS cadres and voters, both of whom are eager to end Dodik's hold on power.