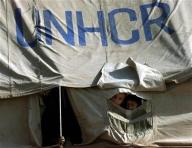 QUETTA, Pakistan – Gunmen abducted an American official of the U.N. refugee agency on Monday after shooting dead his driver in the southwestern Pakistani city of Quetta, police said.
Police identified the official as John Solecki, head of the United Nations High Commissioner for Refugees (UNHCR) office in Quetta. He was on his way to his office when gunmen intercepted his vehicle and opened fire.
"The gunmen have taken him with them after shooting his driver," Quetta police official Wazir Khan Nasir told Reuters.
There had been no claim of responsibility, Nasir said.
Witnesses said the vehicle crashed into the wall of a house after the gunman opened fire.
"We can confirm that the incident happened with the unfortunate death of the driver and the kidnapping of a senior colleague from the UNHCR," said a U.N. spokeswoman in Islamabad, Amena Ali Kamal.
She declined to give any more details.
Security had been stepped up at the main crossing point into Afghanistan at Chaman, 100 km (60 miles) northwest of Quetta, and at other points along the border to stop the kidnappers taking their hostage into Afghanistan, another police official said.
Incidents of kidnapping have increased in Pakistan over the past year, especially in the northwest in areas on the border with Afghanistan, where Islamist militants have abducted several foreigners.
Pakistani Taliban militants were believed to be responsible for the kidnapping of a Chinese engineer, and Polish engineer and two Afghan diplomats. All four were kidnapped in the northwest months ago and are still being held.
Quetta is the capital of Baluchistan province, which borders Afghanistan and Iran.
Both Taliban and separatist Baluch militants operate in the province where the UNHCR is helping Afghan refugees.