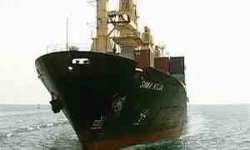 TEHRAN (FNA)- A Dubai Police navy rescue team on Saturday managed to rescue seven crew members on an Iranian ship before it sank off Al Hamriya Port in Dubai.
The vessel, carrying 30 tons of vegetables, was located about 20 nautical miles off Al Hamriya port.
The crew radioed an SOS and a rescue team with two boats equipped with pumps to draw off the water from the sinking vessel were deployed. The Iranian vessel was rescued and tugged to Al Hamriya Port.